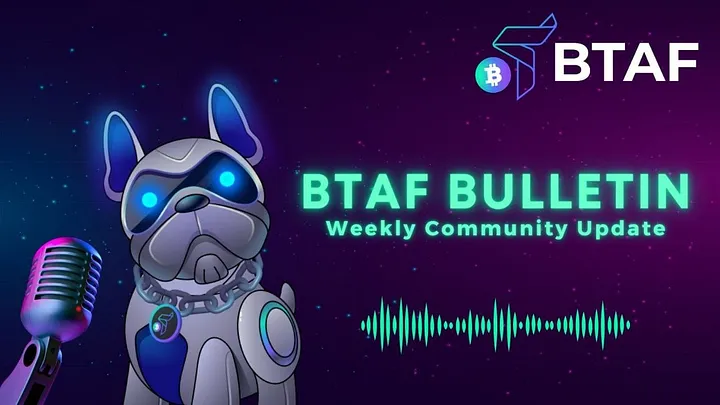 BTAF BULLETIN — 3 March 2023 #9
Happy end of the work week Tuffy fam!
We're here again with your weekly ration of news, views and BTAF token cues 😁
💸 Our March Gifting airdrop was successfully completed — so double check your wallets if you haven't yet already 🥳
Then, for those who haven't yet submitted your forms for the BTAF token Gifting airdrop, please do so ahead of the next airdrop for April!
🎮 We relaunched our community game in the Announcement Channel on Thursday!
We love having fun — work hard, play hard is one of our mottos here. And, we've seen some of you playing, but have you seen where Tuffy is? 🤩
Remember, you can win some BTAF tokens just by playing! More details in the post above — and we'll be dropping hints until the game ends on Sunday 3pm UTC 🔥
📈 BNB price update: BNB is still in a market retrace following along with other major coins. This may continue over the weekend. On the Detonator, we are still in retracement territory, but we might print a very low anchor wave again soon. Be cautious in the markets. All indicators are pointing to a turnaround, but we first need to reach target levels and EMA support.
⚠️ For the security of your capital and tokens, it is of vital importance that you always double check that the contract address is correct when looking to purchase BTAF tokens on PancakeSwap!
👉🏼 0xcae3d82d63e2b0094bc959752993d3d3743b5d08
You can always double check this on https://btaftoken.io/ and by searching for BTAF token on CoinMarketCap and CoinGecko.
📈 Track your BTAF tokens live on DexTools and also on Trading View 🤓
🖥 For any BTAF token questions, visit our Help Centre at https://help.btaftoken.io/ or create a support ticket HERE.
⚡️BTAFPay, where you can use BTAF tokens to pay for products & services on bitcoinTAF.com, is a great option to make use of — fees are minimal & transaction times are almost instantaneous!
📅 Note: The next live AMA is scheduled for Thursday, March 9th 2023 at 9am UTC. More details on this to come!
The webinar registration links will be posted, as usual, closer to the time.
For a recording of last week's AMA, you can watch it HERE.
Have an amazing weekend everyone — see you in the cyber maze!
The BTAF token team 🐾💜