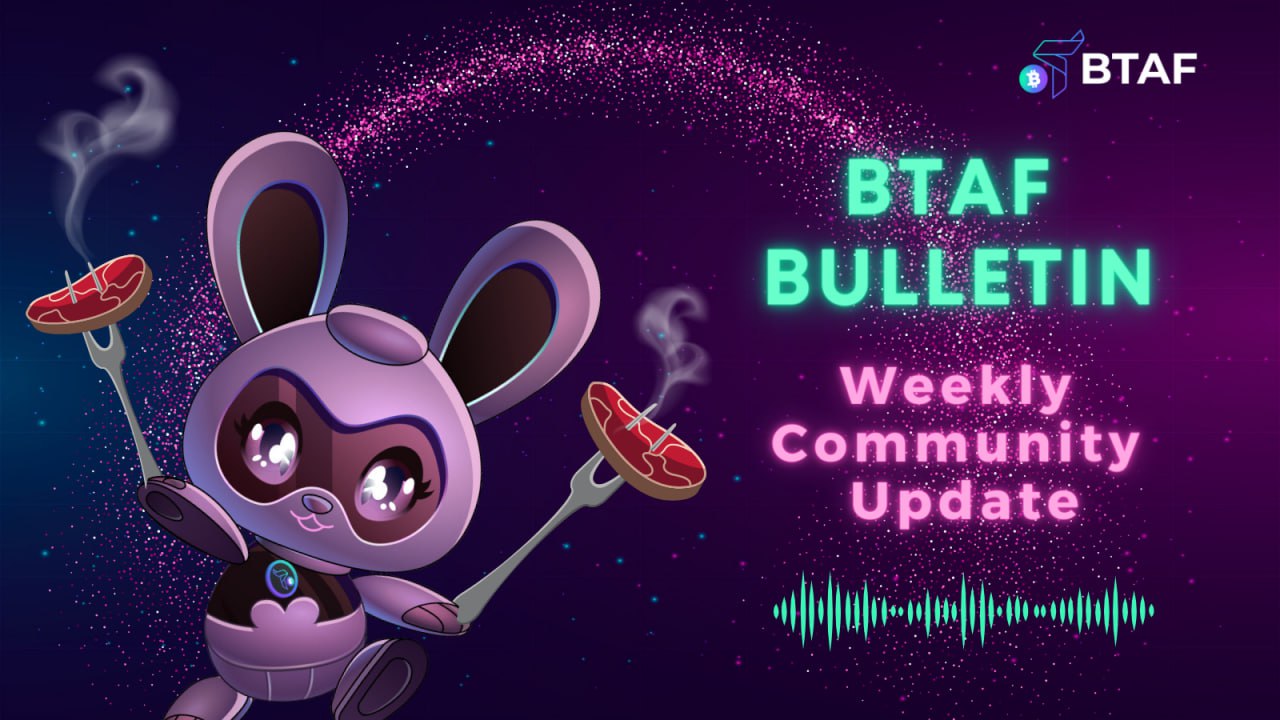 BTAF BULLETIN – 9 June 2023 #23
Staking, staking and morrrrrrre staking! 😁
In this week's BTAF token weekly bulletin we recap a number of important points for those of you (hopefully all) that are staking in either or both staking contracts, as well as highlights for IPO members, BTAFPay and the regular BNB analysis. Let's delve in:
🎥 For those who missed last week's AMA, HERE is the recording from it! This contains all the info you need about the new staking contract, but check out our website for some important snippets from this 👀
⚡️ REMINDER: You can now pay for the Elliott Wave algorithms product on BitcoinTAF.com using BTAFPay! Head on over to BitcoinTAF.com and go to the Online Store, and simply select the product, and when choosing to pay for it, select BTAFPay! 🥳
Remember that every month following this month, you will be able to pay for a newly-linked BitcoinTAF.com product as well! Keep an eye on our channels for more info around the next product to be announced 🥳
❗️ IPO: The IPO members had their first monthly private group call with Marius and Nico, which added even more value to the IPO membership 🔥
Another Coin Quest coin was dropped into the IPO Chat for our members to have a look at!
There are lots of fresh updates happening for our members in there, so a reminder to look in the IPO Chat for updates.
❗️If you are a Diamond or Platinum member, and have not yet joined the IPO membership, check your email for details. Check your junk mail folder and if you still can't find the email, please create a support ticket HERE.
📉 BNB analysis: Over the past week, we have seen a correction with all the news around Binance and the SEC. We drew back to the 253 level and are currently finding support here. BNB is at the lowest momentum it has been for a while now, with a new green solid anchor point for us on all indicators. Only up from here! 253 is a new support level and we need to keep the higher levels like 299 and 314 in mind 🚀🔥
🥩 Now for more on the flavours of the year, we're into the twelfth week of our 90-day / 65% APR staking contract.
Staking in the older 90-day / 65% APR contract has been turned off, but rewards can be claimed (without penalty) at any time. Unstaking from this contract is best done after the contract matures (June 20/21) when the counter hits "0" as to not incur an early unstaking fee.
If you can still see the "Stake" button, please refresh your screen or clear your cache, and the button should disappear.
The newer 90-day / 35% APR contract was launched on 5 June 2023. The dashboard should look familiar to you and will work the same as the older contract's dashboard.
Please do double check which contract / dashboard you are interacting with before proceeding, as your MetaMask only needs to be connected once! 🤓
❗️If you have not unstaked your previous TAF tokens, please complete this form ASAP so that you can apply for the BTAF token Gifting airdrop, so that you can start to stake those tokens of yours!
If you have done this and not yet completed your forms for the BTAF token Gifting airdrop, please do so sooner rather than later – before the July Gifting airdrop!
The Gifting airdrop form completion deadline is 1 Oct 2023. You all need to complete the form prior to this date in order for you all to be eligible for your BTAF token gift!
🎫 For any BTAF token questions around any of the above, please visit our Help Centre at https://help.btaftoken.io/ or create a support ticket HERE.
📅 Note: The next live AMA is scheduled for Thursday, June 15th 2023 at 9am UTC. More details on this to come as usual.
May you all have a great weekend, and thanks for reading until this point. A high-five to you!
🐾💜