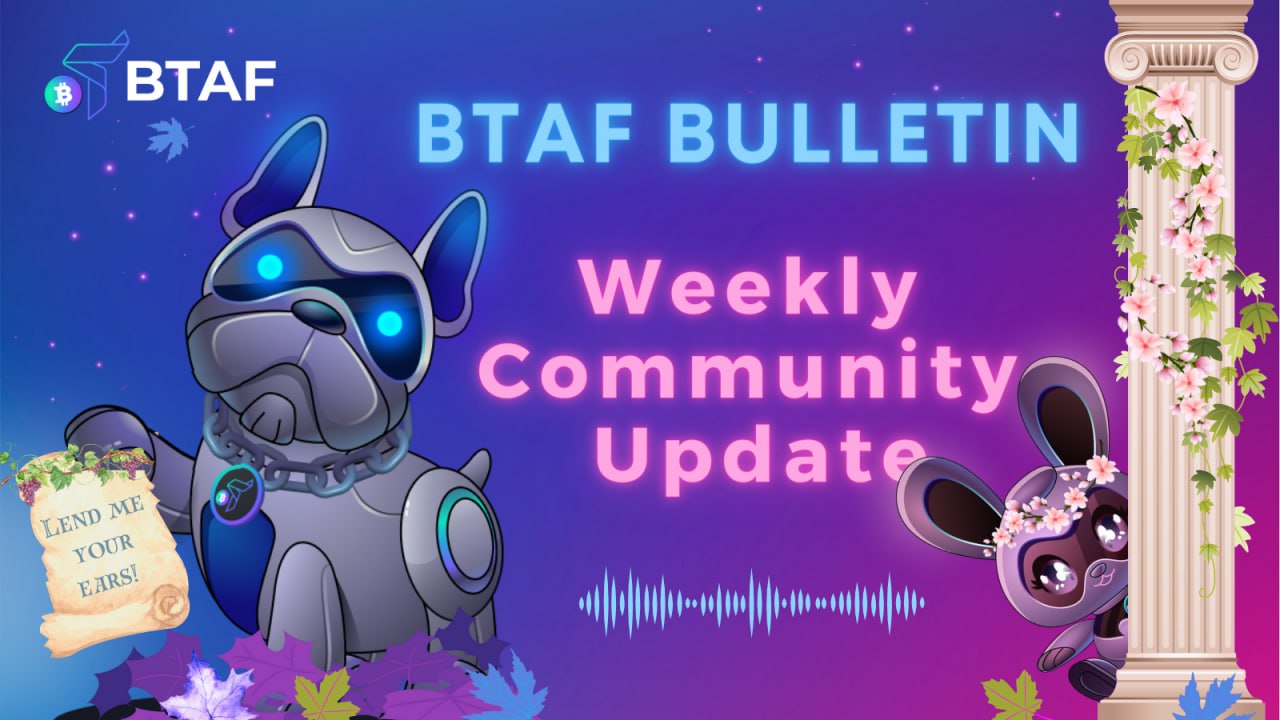 🀩 BTAF BULLETIN – 8 September 2023 #36
Yet another great AMA yesterday! Lots of great insights into BTAF token, staking and HM & WoR updates, Tuffy's FAQ tips, the new BTAFPay product announced, and so much more! πŸ"₯
πŸŽ₯ If you missed yesterday's AMA watch it so you can catch up on all that you missed! 🍿
πŸ'Ž IPO: IPO members keep an eye on the channel for more details on the upcoming product that is Wolves of Rome (WoR)! πŸ'€
πŸ'‰πŸΌ Note: Even if you aren't an IPO member, there mayyyyy be some good news for you as well πŸ˜‰
🀟 HybridMeta: For those who participated in the HM pre-sale, make sure that you're in the HM Telegram channel. If not, check your inbox (or spam folder) for all the details.
⚑️ BTAFPay: Wendy announced that the next product on BitcoinTAF.com that is now eligible for BTAFPay is… the Hodlnots Scalping Course! πŸ₯³πŸ"₯πŸ₯³
Head on over to BitcoinTAF.com, select the Online Store, and filter the products available that one can pay for by using BTAFPay!⚑️
πŸ"‰ BNB analysis: Following BTC in the ranging movement, BNB remains in a sideways pattern during the past week but more volume flowing into the latest naked candle. Resistance is still on a HPL level at 217. Support here will have further bullish movement. Indicators point to more upside in the next couple of days. 238 will be the next focus for a breakout.
πŸ₯© Staking:
πŸ'‰πŸΌ We are into the 5th week of the THIRD staking contract (the second of the 90-day / 35% APR contracts) – there are still around 58 days left in this staking contract!
You can stake any rewards previously generated by the other staking contracts, from Gifting airdrops or other BTAF tokens that you've accumulated. Remember, the sooner you stake your BTAF tokens, the more that will be generated 😎
πŸ'‰πŸΌ The SECOND 90-day / 35% APR contract matured last weekend! πŸ₯³
You can now unstake safely and still claim your rewards from there at any point! But, with the 3rd staking contract πŸ'†πŸΌ still valid, make sure you do so sooner rather than later!
❗️Please be careful and double check with which contract you are interacting with when you are on the BTAF token staking platform ⚠
πŸ'Έ If you have not yet completed your forms for the BTAF token Gifting airdrop, please do so soon as the Gifting airdrop form completion deadline is 1 Oct 2023!
You all need to complete the form prior to this date in order for you all to be eligible for your BTAF token gift!
🎫 For any BTAF token questions around any of the above, please visit our Help Centre at https://help.btaftoken.io/ or create a support ticket HERE.
πŸ"… Note: The next live AMA is scheduled for Thursday, October 5th 2023 at 9am UTC. We are now holding the BTAF token AMA once a month on the first Thursday of the month, but if the need arises, we will hold other AMA's. More details on this to come.
Happy weekend everyone!
πŸΎπŸ'œ