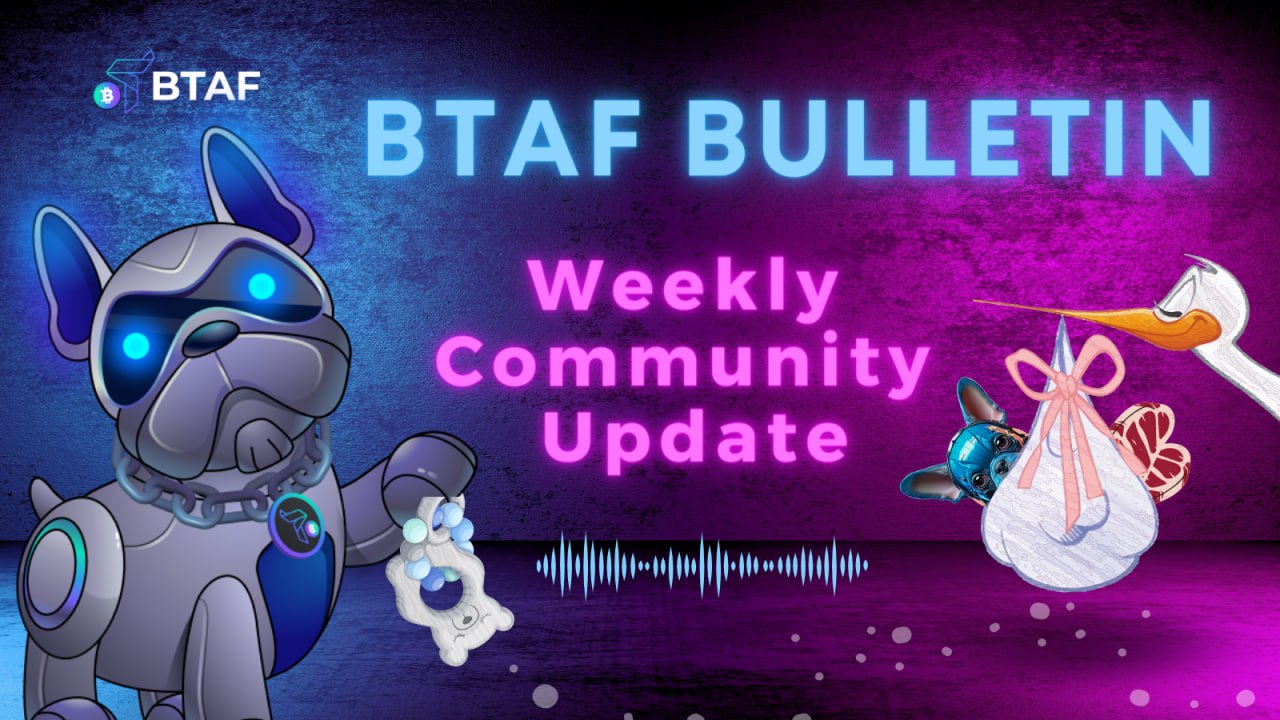 🥩🐶 BTAF BULLETIN – 20 October 2023 #44
What a cracker AMA yesterday, with some super exciting announcements!! 😱🥳🔥
📺 If you missed it, you definitely don't want to miss out on watching the recording for all the announcements from then!
🐶 Cyber Dogz NFTs: As mentioned in the AMA, Tuffy is now a proud dad and blessed with 25 very unique & different pups in the CYBER DOGZ second collection – the Blue litter! They are currently being registered (minted) and cannot wait for the launch date. Please keep an eye on the channel for further developments! 🥳💙🐶
💎 IPO Members: The monthly IPO meeting with Marius & Nico will be on Tues 7 Nov – details are in the IPO channel! 👀
📉 BNB analysis: There's been more upward movement in the past week with the trend finding solid support on the top weekly trendline. Indicators still show lots of bullish confluence even with correction attempts. The level that we still keep an eye on is 238.6 . The current trend is also holding strong support on the DTM ema and is currently testing the top bull flag level. Support here will be key.
⚡️ BTAFPay: You can use your BTAF tokens to pay for services, signals and products over at BitcoinTAF.com!
Head on over to the Online Store in your back office, and then filter the products available that one can pay for by using BTAFPay!⚡️
🎮 Community Game: Congrats to some of the regular players of our community games who've managed to nab the top 3 spots in the Broom Zoom game 👏🏼👏🏼
🥩 Staking:
👉🏼 The current (third) staking contract will mature this weekend (Sunday or Monday depending on where in the world you live!) 🥳
❗️Remember, your tokens are still generating rewards. DO NOT unstake until the counter shows "0" and disappears – if you do unstake prior to this, you will incur a penalty. You can of course claim any rewards that have been generated at any point.
After it matures (the counter shows "0") you can unstake without penalty, and of course claim your rewards without penalty as well.
📣 A new staking contract will be launched shortly. But we'll be giving everyone enough time to unstake from the 3 existing contracts and get your BTAF tokens ready for this new one.👉🔥
❗️Please remember to unstake any tokens still left in the first 2 staking contracts, and claim your rewards there.
🎫 For any BTAF token questions around any of the above, please visit our Help Centre at https://help.btaftoken.io/ or create a support ticket HERE.
📅 AMA: The next live AMA is scheduled for Thursday, December 7th 2023 at 9am UTC.
Have a splendiferous weekend everyone! 😁
The BTAF token team
🐾💜