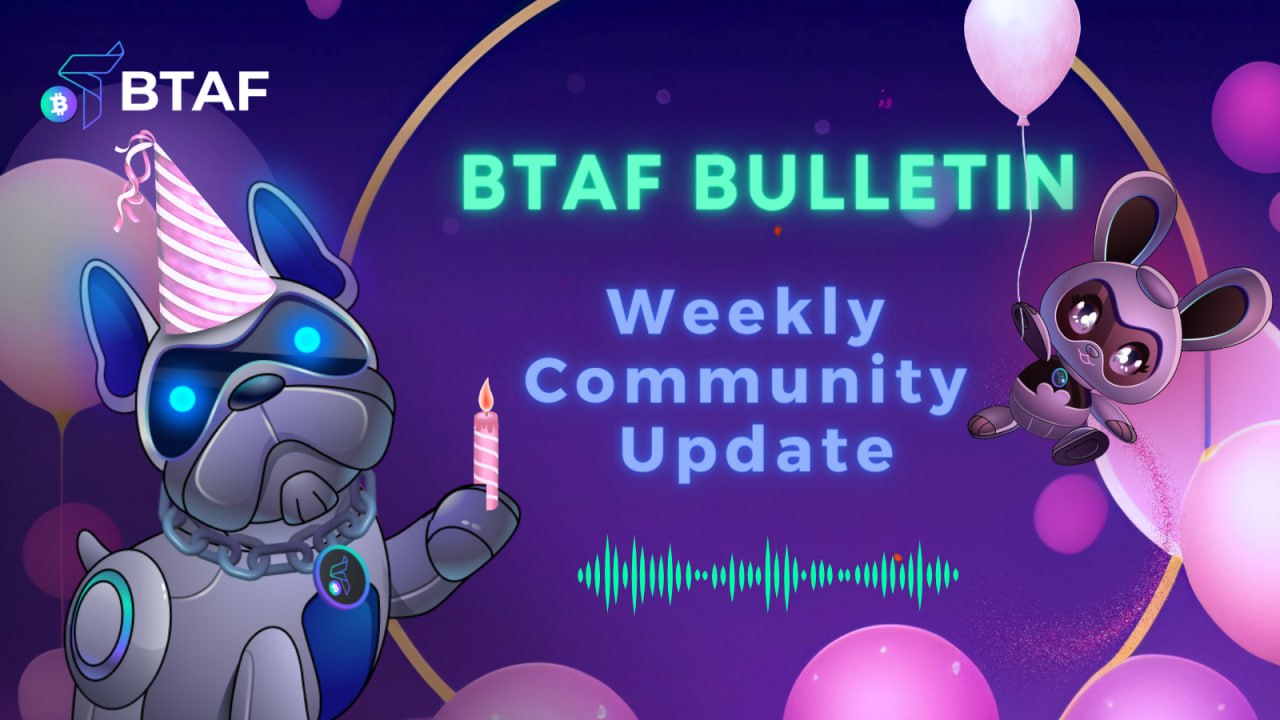 🆒 BTAF BULLETIN – 6 October 2023 #40
Some say that 40 is the new 30, but regardless, BTAF token celebrated turning 1 year old this week! 🎉
And if you missed the AMA yesterday, there were a few cracker announcements!
💎 IPO Members: NFT's!!!! Nico officially announced the launch of some pretty spectacular NFTs that he's been working on in the background, Cyber Dogz, exclusive to BitcoinTAF.com and BTAF token. Watch the AMA recording for this special announcement! 🤩🐶🤩
⚡️ BTAFPay: Nico announced on the AMA yesterday that The Ultimate DeFi training course is the latest addition to the options with which you can pay for using BTAFPay!
Reminder, you can use your BTAF tokens to pay for services, signals and products over at BitcoinTAF.com!
Head on over to the Online Store in your back office, and then filter the products available that one can pay for by using BTAFPay!⚡️
📉 BNB analysis: Currently testing the weekly top pattern trend level. Good push over last weekend – temporary on ema levels before losing support below them again. Trend and ema break will be the signal for more bullish pushes. Good current support on HPL level on 12hr. Getting to good trigger dot again. More bullish moves expected.
🥩 Staking:
👉🏼 We are now into the 9th week of the THIRD staking contract – there are still around 30 days left in this staking contract.
However, you only have until 8 October (2 days from now) to stake into our current staking contract. After that date, staking will be disabled as it will no longer be viable to stake in that contract. However, you tokens will still be generating rewards. DO NOT unstake until the counter shows 0 and disappears – if you do unstake prior to this, you will incur a penalty. You can of course claim rewards that have been generated at any point.
❗️Please remember to unstake any tokens still left in the first 2 staking contracts, and claim your rewards there.
📣 There will be a new staking contract released at the end of October/beginning of November – but more on that on our next AMA.
💸The Gifting airdrop application date has come and gone. Thank you to all of those that submitted their forms, and have been receiving monthly Gifting airdrops. This will continue for the next month or so, and all cases will be looked at individually thereafter.
🎫 For any BTAF token questions around any of the above, please visit our Help Centre at https://help.btaftoken.io/ or create a support ticket HERE.
📅 AMA: The next live AMA is scheduled for Thursday, November 2nd 2023 at 9am UTC.
Kind regards and best wishes,
The BTAF token team
🐾💜