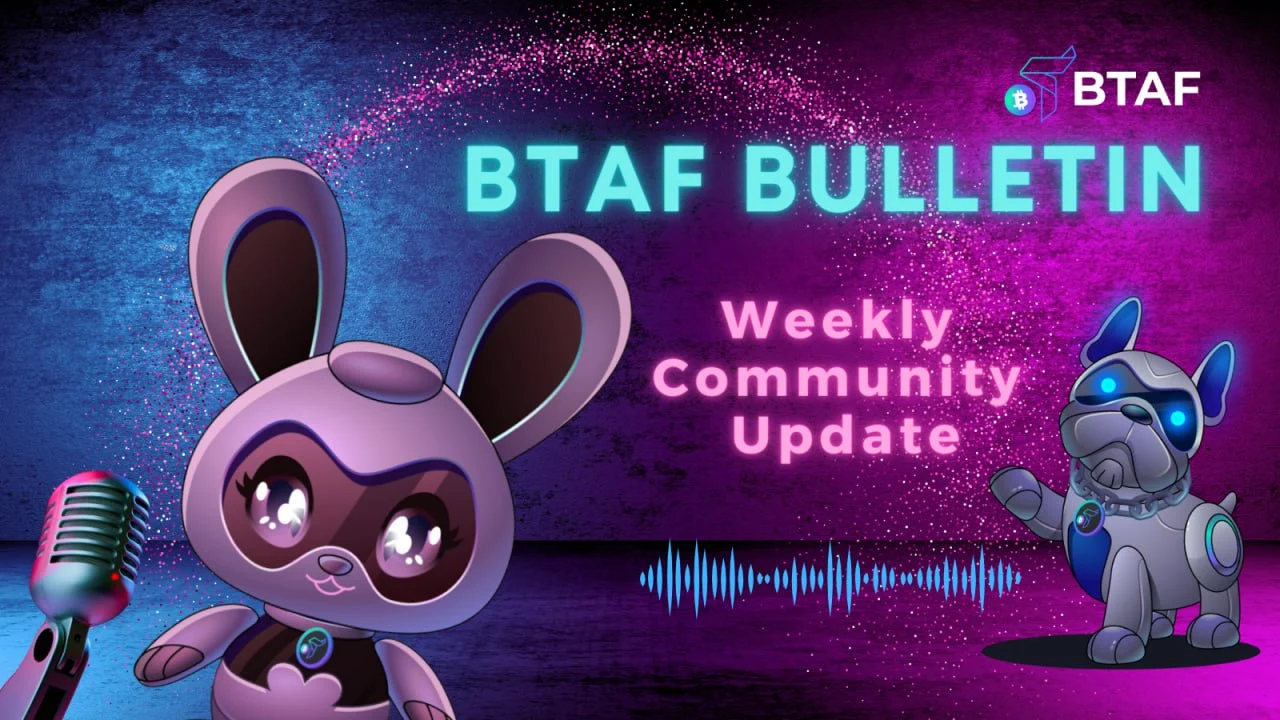 BTAF WEEKLY BULLETIN – 5 May 2023 #18
Happy Cinco de Mayo to our Mexican friends!
We can't believe how quickly the year is going by! We're already into May and for some that means it's almost winter/summer.
While the seasons are changing, we here at BTAF token are also keeping things fresh.
We announced the name of Tuffy's new friend on the AMA yesterday, so let's recap what else we touched on:
๐ŸŽฅ If you missed our bi-monthly AMA yesterday, HERE is the recording of it ๐Ÿ'€
๐Ÿฐ Tuffy's new friend, FLUFFY, has been popping up all over the place for the last few weeks, and thanks to you, our community, she is no longer nameless. Look out for their adventures to come ๐Ÿคฉ
โ—๏ธย For those members in the IPO announcement channel on Telegram, keep your eyes peeled for some information around the launch of an additional benefit to your IPO membership!๐Ÿ"ฅ
๐Ÿ"‰ BNB analysis: More ranging movement on the 12hr. The trend is still inside a bull flag, just below our important volume-weighted average line. Most ALTS starting to look bullish, and BNB is also at the bottom of momentum with some good trigger waves. More patience needed to have full confluence with our indicators. Next week will be interesting.
๐Ÿฅฉ We're now into the seventh week of our 90-day / 65% APR staking contract ๐Ÿฅณ
If you have not unstaked your previous TAF tokens, please complete this form ASAP so that you can apply for the BTAF token Gifting airdrop, so that you can start to stake those tokens of yours!
If you have done this and not yet completed your forms for the BTAF token Gifting airdrop, please do so sooner rather than later – before the June Gifting airdrop.
The Gifting airdrop form completion deadline is now 1 Oct 2023. You all need to complete the form prior to this date in order for you all to be eligible for your BTAF token gift!
๐ŸŽซ For any BTAF token questions around any of the above, please visit our Help Centre at https://help.btaftoken.io/ or create a support ticket HERE.
โšก๏ธBTAFPay, where you can use BTAF tokens to pay for products & services on BitcoinTAF.com, is a great option to make use of – fees are minimal & transaction times are almost instantaneous! Have you seen the list of products you can pay for using BTAFPay? Simply select "BTAFPay" when filtering the categories in the online store ๐Ÿค"
๐Ÿ"… Note: The next live AMA is scheduled for Thursday, May the 18th 2023 at 9am UTC. More details on this to come as usual.
๐ŸŽฎ Look out for another community game dropping next week here in the Announcement Channel – there will be prizes up for grabs as usual!
May you all have a fantastic weekend ๐Ÿฅณ
๐Ÿพ๐Ÿ'œ