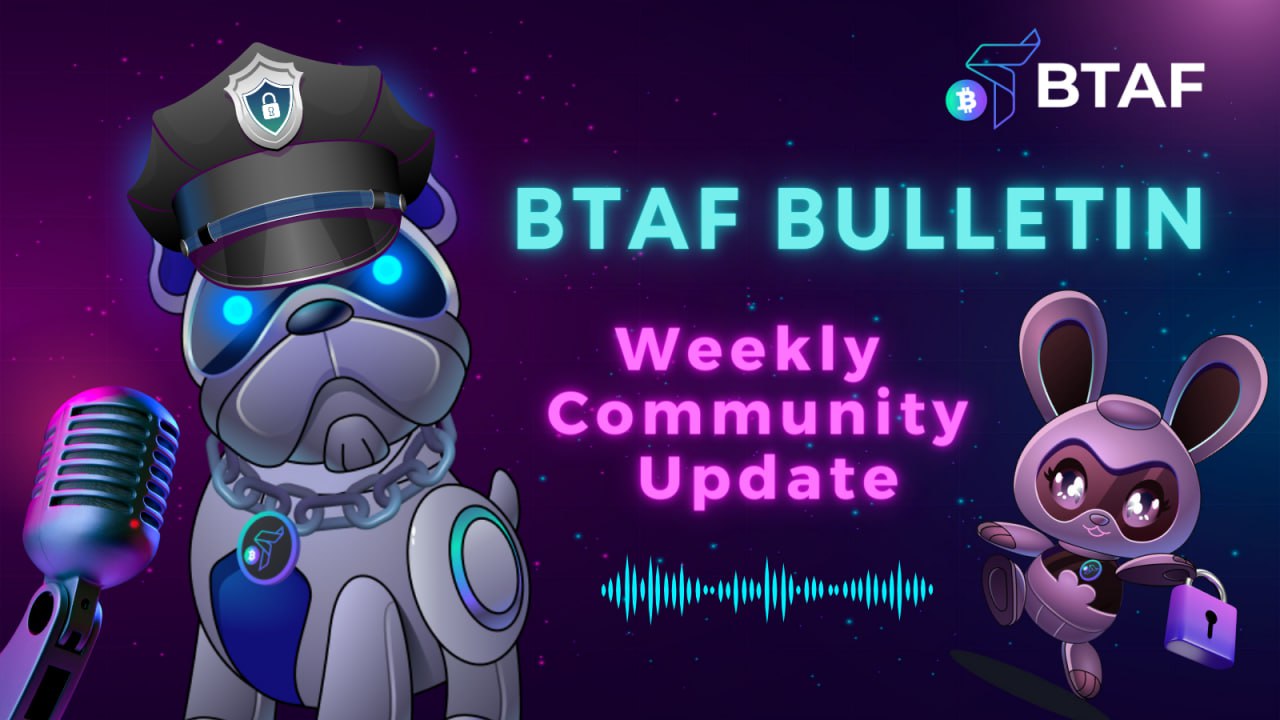 BTAF BULLETIN – 30 June 2023 #26
We're 2 days away from the middle of the year, and what a first half it has been! ๐Ÿ˜
We had a bumper AMA yesterday, filled with important security updates for you all, but also exciting news for the IPO members, and an exciting (but objective) look at the market, especially BNB (on which it and our BTAF token is built)!
๐ŸŽฅ Want to see what the AMA was all about? HERE is the recording from it ๐Ÿ'€
โšก๏ธ BTAFPay: Tomorrow, July 1st, sometime, the MTT subscription will become payable with BTAFPay payment.๐Ÿฅณ
๐Ÿ–ฅ Speaking of the website, do note that the Bitcointaf.com website will be undergoing its new & improved update so be aware that it will be down for some time tomorrow. Keep an eye on the BitcoinTAF Main Channel for updates there! ๐Ÿ"ฅ
โ—๏ธIPO: IPO members do keep an eye on the announcement around the project we have previously discussed as it's all systems go there! We also dropped another Coin Quest coin for you all to consider ๐Ÿ"ฅ
If you are a Diamond or Platinum member, and have not yet joined the IPO membership, check your email for details. Check your junk mail folder and if you still canโ€™t find the email, please create a support ticket HERE.
If you're not a Diamond or Platinum Key member yet, you have the option to buy in still. See the online store on BitcoinTAF.com for more info!
๐Ÿ"‰ BNB analysis:
Current Price: $238.30 USD
Market Cap: $37.62 billion USD
Circulating Supply: 157,886,280 BNB (78.94% of max supply)
24h Price Change: +4.41 USD (+1.85%)
24h Trading Volume: $457.91 million USD
We're at the bottom of momentum for BNB and we are breaking significant levels at current HPL level of 238. Strong support was found on the 221 level. New 12hr candle looking good as well as a golden dot on the 4hr shows good potential in the next few days. It looks like a bottom was reached for BNB and is turning around. Weekly approaching green dot that will signal strong bullish presence.
๐Ÿšจ On our AMA yesterday, Nico touched on super important points around security in crypto, your own token security, and much more.
Here is a brief recap, but do watch the AMA for the comprehensive review on security:
"BTAF tokens leverage smart contracts to enable secure, automated, and transparent transactions, fostering trust and efficiency in the ecosystem.
To secure your BSC wallet, ensure the safekeeping of private keys, use reputable wallets, enable 2FA, be vigilant about phishing attacks, double-check transactions, use secure networks, and regularly backup your wallet.
Smart Contract Security involves implementing and maintaining secure code in blockchain-based contracts to automate transactions securely and prevent unauthorized manipulations."
๐Ÿฅฉ Juicy staking:
The older 90-day / 65% APR contract expired on 21 June 2023. It's now possible to unstake your tokens without penalty, and as always you can claim your rewards without penalty.
Then, we are into the 4th week of the 90-day / 35% APR contract, which is ready to accept those BTAF tokens that you unstaked from the previous contract, as well as the tokens that you generated in that contract! The dashboard should look familiar to you and will work the same as the older contractโ€™s dashboard.
โ—๏ธIf you have not yet completed your forms for the BTAF token Gifting airdrop, please do so sooner rather than later.
The Gifting airdrop form completion deadline is 1 Oct 2023. You all need to complete the form prior to this date in order for you all to be eligible for your BTAF token gift!
๐ŸŽซ For any BTAF token questions around any of the above, please visit our Help Centre at https://help.btaftoken.io/ or create a support ticket HERE.
๐ŸŽฎ We had loads of fun down at the seaside this week as our community members took part to win some BTAF tokens. The winners will be announced in due course.
๐Ÿ"… Note: The next live AMA is scheduled for Thursday, July 13th 2023 at 9am UTC. More details on this to come as usual.
Thanks once again for reading until this point ๐Ÿ˜
๐Ÿพ๐Ÿ'œ