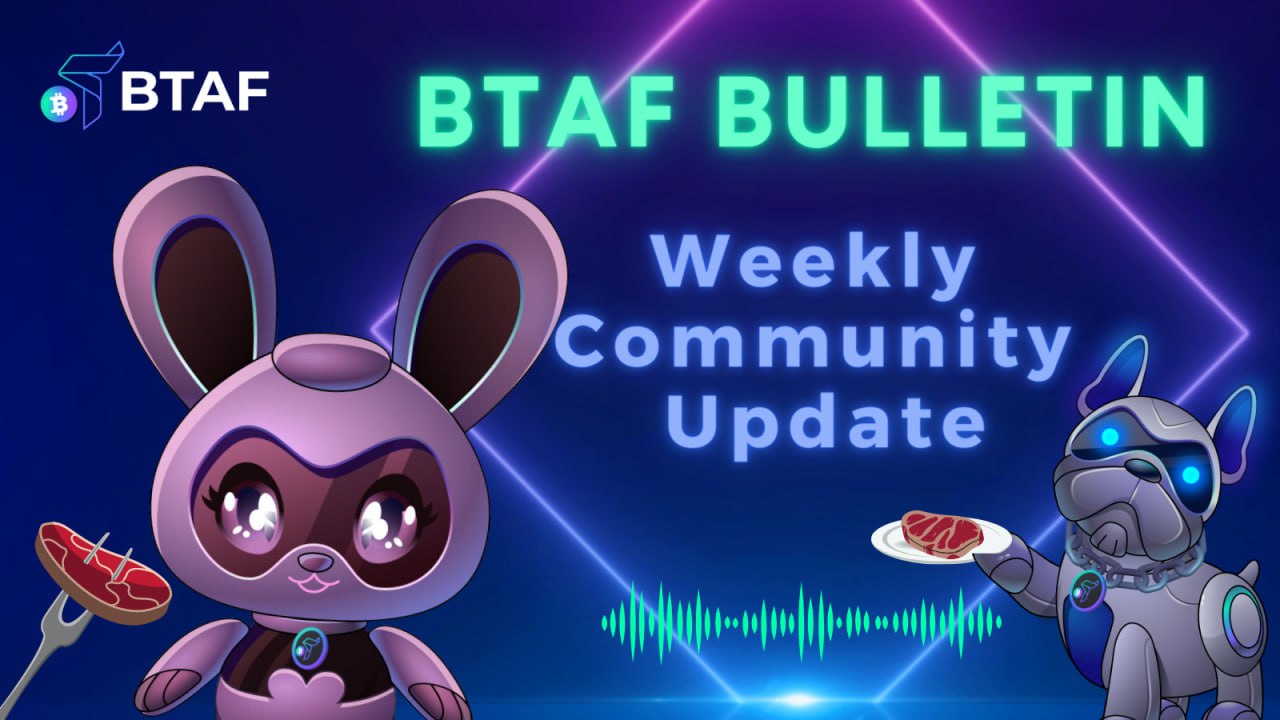 BTAF BULLETIN – 23 June 2023 #25
The first course of 90-day-matured staking has finally been served this week, and the second course is well underway at the moment ๐Ÿ˜
Herewith a wrap-up of the week's happenings:
๐ŸŽฅ For those who missed last week's AMA, HERE is the recording from it ๐Ÿ'€
โšก๏ธ BTAFPay: Watch out for the MTT subscription being an option for BTAFPay payment from July 1st!
As you know already, you can pay for the Elliott Wave algorithms product on BitcoinTAF.com using BTAFPay.
Head on over to BitcoinTAF.com and go to the Online Store, and simply select the product, and when choosing to pay for it, select BTAFPay! ๐Ÿฅณ
โ—๏ธ IPO: If you are a Diamond or Platinum member, and have not yet joined the IPO membership, check your email for details. Check your junk mail folder and if you still canโ€™t find the email, please create a support ticket HERE.
๐Ÿ"‰ BNB analysis: More sideways movement for BNB amidst the BTC spike over the past week. The trend is still holding strong on the 238.1 level for a couple of days now. A strong weekly level at 253.5, and finding support here, will also place it above a weekly bullish pennant that is closing. GOLDEN DOTS on lower timeframes and momentum above zero which signals a bullish movement. There is overall bullish confluence.
๐Ÿฅฉ Matured, and fresh, staking:
The older 90-day / 65% APR contract expired on 21 June 2023. It's now possible to unstake your tokens without penalty, and as always you can claim your rewards without penalty.
Then, we are into the 3rd week of the 90-day / 35% APR contract already underway, which is ready to accept those BTAF tokens that you unstaked from the previous contract, as well as the tokens that you generated in that contract! The dashboard should look familiar to you and will work the same as the older contractโ€™s dashboard.
Please do double check which contract / dashboard you are interacting with before proceeding, as your MetaMask only needs to be connected once! ๐Ÿค"
โ—๏ธIf you have not unstaked your previous TAF tokens, please complete this form ASAP so that you can apply for the BTAF token Gifting airdrop, so that you can start to stake those tokens of yours!
If you have done this and not yet completed your forms for the BTAF token Gifting airdrop, please do so sooner rather than later – before the July Gifting airdrop!
The Gifting airdrop form completion deadline is 1 Oct 2023. You all need to complete the form prior to this date in order for you all to be eligible for your BTAF token gift!
๐ŸŽซ For any BTAF token questions around any of the above, please visit our Help Centre at https://help.btaftoken.io/ or create a support ticket HERE.
๐ŸŽฎ Look out for the next community game that we are going to launch – more details to follow, but there will be BTAF tokens up for grabs again! ๐Ÿคฉ
๐Ÿ"… Note: The next live AMA is scheduled for Thursday, June 29th 2023 at 9am UTC. More details on this to come as usual.
Thanks once again for reading until this point. Please do drop an emoji response to this post if you've read until here! ๐Ÿ˜
๐Ÿพ๐Ÿ'œ