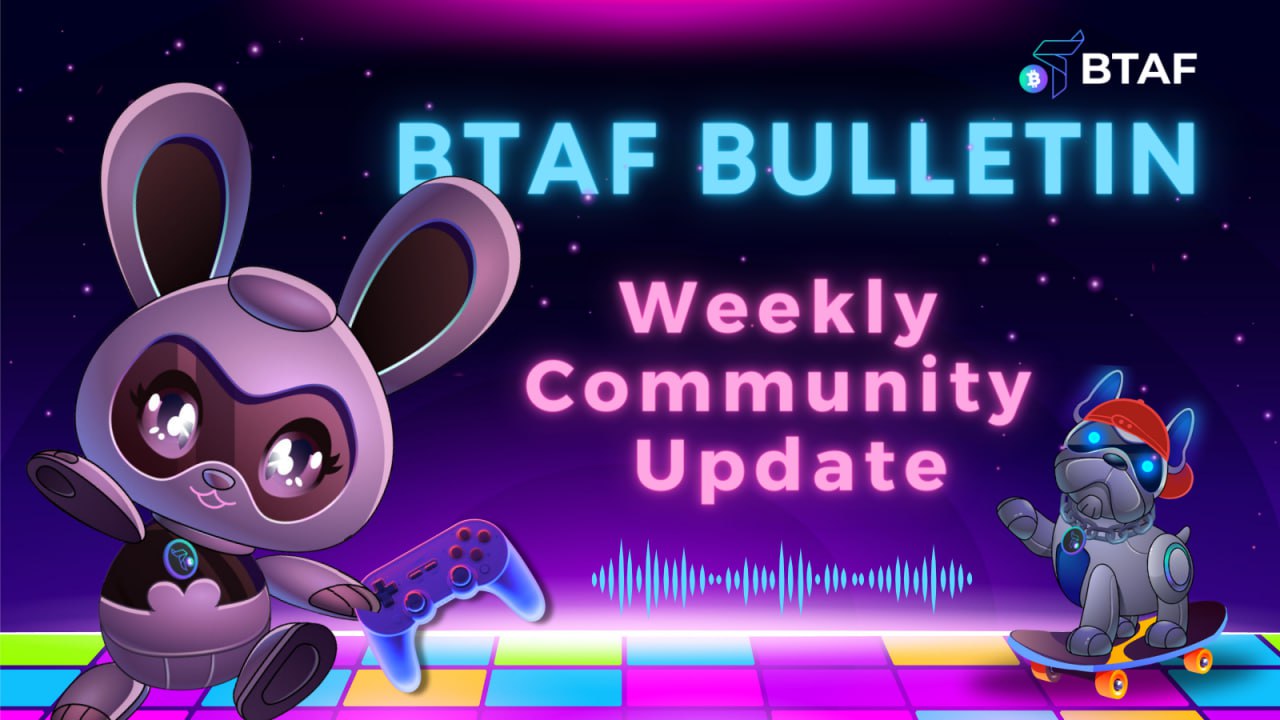 BTAF BULLETIN – 25 August 2023 #๐Ÿ"ค๐Ÿ"ค
Yet another fun week over here at BTAF token ๐Ÿ˜
Our bi-monthly AMA took place yesterday, and fun was had all round!
More on this below:
๐ŸŽฅ If you missed yesterday's AMA do watch it so you can catch up on the latest in staking contracts, Tuffy's security tips, our BNB analysis as well as the latest Community Game that we've dropped.
๐Ÿ'Ž IPO: IPO members keep an eye on the channel for details around your private call with Marius and Nico, which will be on Sept 5th ๐Ÿ'€
๐Ÿšจ Reminder to check out Tuffy's Security Tips from our previous AMA's, including yesterday's. It's super important to always be vigilant and make sure you keep your crypto (especially BTAF tokens) safe! We will be dropping a summary here over the weekend on these tips as well.
โšก๏ธ BTAFPay: Also keep watch here over the next few days as we announce the next BitcoinTAF.com product that you will be able to pay for using BTAFPay! โšก๏ธ
Remember to head on over to BitcoinTAF.com, select the Online Store, and filter the products available that one can pay for by using BTAFPay!๐Ÿ†'
๐Ÿ"ฃ For those that took part in the HybridMeta pre-sale, please check your inbox over the coming days for more details on this!
๐Ÿ"‰ BNB analysis: There was a 8.31% bullish move in the week ever since wicking down to a strong weekly level of 203.9. BNB tested the HPL level at 221.0 and in the last day it was rejected from this level. The Detonator B is still slowly moving upward in momentum with Stochastic riding high. Trend oscillation might be in between these two levels for the next correction. Breaking the 221 level will be a good indication.
๐ŸŽฎ The Community Game that was launched on Wednesday is hotting up, with some Conga lines getting really long! Check out all the details above, and join in the fun to win some BTAF tokens! ๐Ÿฅธ
๐Ÿฅฉ Staking:
๐Ÿ'‰๐Ÿผ We are into the 3rd week of the THIRD staking contract (another great 90-day / 35% APR contract).
You can still stake any rewards previously generated by the other staking contracts, from Gifting airdrops or other BTAF tokens that you've accumulated. Remember, the sooner you stake your BTAF tokens, the more that will be generated ๐Ÿ˜Ž
๐Ÿ'‰๐Ÿผ We are now into the 11th week of the SECOND 90-day / 35% APR contract.
DO NOT unstake until the time counter reaches "0" – there are only a few days left to go. Your tokens will still be generating more rewards so there is no need to unstake AND if you do, you will incur a penalty.
You can of course claim your rewards from there at any point!
โ—๏ธFor those who haven't yet, please unstake from the first 90 day / 65% Apr contract. Your tokens are just sitting there not generating any new rewards ๐Ÿ˜ฑ
โ—๏ธโ—๏ธPlease be careful and double check with which contract you are interacting with when you are on the BTAF token staking platform โš 
๐Ÿ'ธ If you have not yet completed your forms for the BTAF token Gifting airdrop, please do so sooner rather than later as the September Gifting airdrop is only a few days away!
โ—๏ธThe Gifting airdrop form completion deadline is 1 Oct 2023!
You all need to complete the form prior to this date in order for you all to be eligible for your BTAF token gift!
๐ŸŽซ For any BTAF token questions around any of the above, please visit our Help Centre at https://help.btaftoken.io/ or create a support ticket HERE.
๐Ÿ"… Note: The next live AMA is scheduled for Thursday, September 7th 2023 at 9am UTC. More details on this to come as usual.
We hope you all have a joyful weekend! ๐Ÿ˜™
๐Ÿพ๐Ÿ'œ