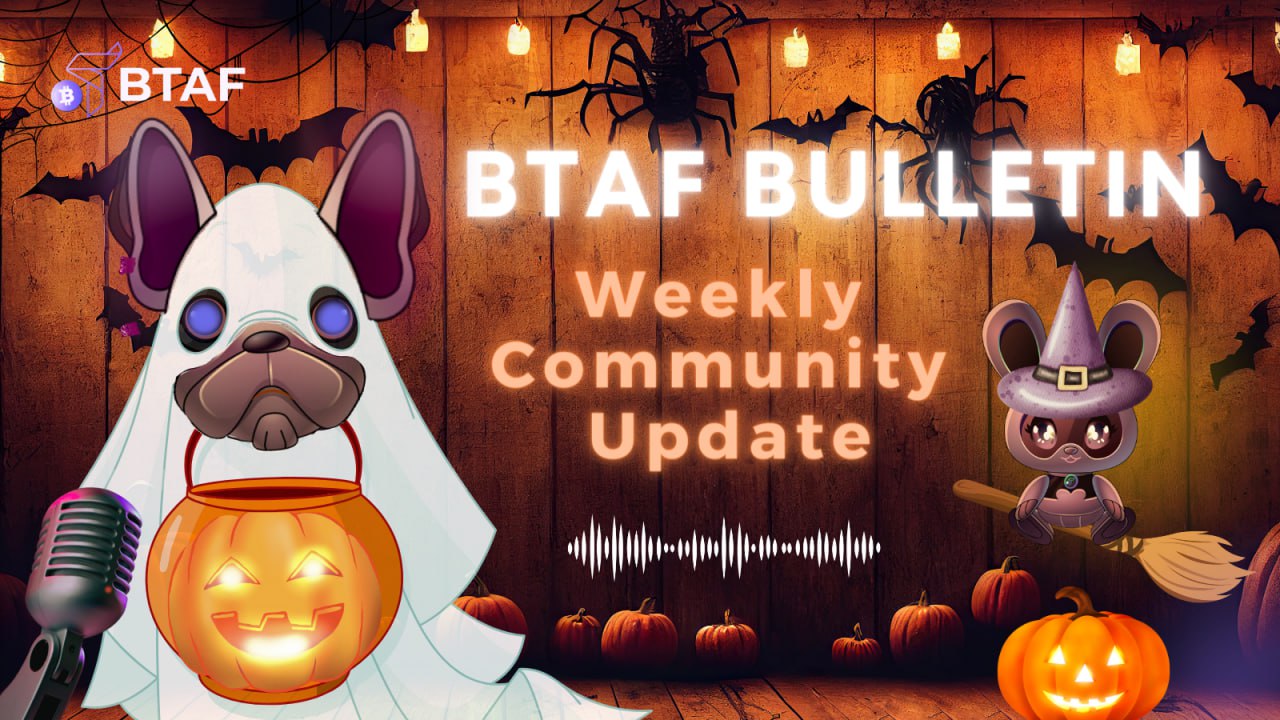 👻 BTAF BULLETIN – 20 October 2023 #43
Where did the skeleton keep his money? In the crypt-o market… 💀
I would make another skeleton joke, but you wouldn't find it very humerus either.
While those jokes were a bit lame, this week's bulletin is not! Read on for the latest spooktacular BTAF token developments:
💎 IPO Members: Our Cyber BulldogZ NFT product is alive and well, and ready to rummmblllle! More exciting details will be provided on the next AMA in a few days time.
📉 BNB analysis: The past week started with a spike from level 211 for a short 12% run rejecting against the 238.6 level. We are getting close again to the level where we lost support back in August. New bullish momentum in the markets and 203 level proved to be the definite bottom. The trend currently in bull flag is almost at the 217.3 hpl level. The break of the flag will be renewed confirmation. Indicators still proving to be very bullish.
⚡️ BTAFPay: You can use your BTAF tokens to pay for services, signals and products over at BitcoinTAF.com!
Head on over to the Online Store in your back office, and then filter the products available that one can pay for by using BTAFPay!⚡️
🥩 Staking:
👉🏼 We are now into the 12th week of the THIRD staking contract – there are just 9 days left in this staking contract.
Remember, your tokens are still generating rewards. DO NOT unstake until the counter shows "0" and disappears – if you do unstake prior to this, you will incur a penalty. You can of course claim any rewards that have been generated at any point.
❗️Please remember to unstake any tokens still left in the first 2 staking contracts, and claim your rewards there.
👉 There will be a new staking contract released at the beginning of November – but more on that on our AMA next week and in our official channels.
If you missed the AMA earlier this month, please watch the recording for all the announcements from then!
🎫 For any BTAF token questions around any of the above, please visit our Help Centre at https://help.btaftoken.io/ or create a support ticket HERE.
📅 AMA: The next live AMA is scheduled for next week Thursday, November 2nd 2023 at 9am UTC.
🎮 Witch of you are ready for this month's Community Game?! Watch out for the next post! 🧙🏼‍♀️🎃
And like the mummy film director says, "That's a wrap folks!"
Have a happy Halloween weekend, and GO SPRINGBOKS! 🇿🇦😉
The BTAF token team
🐾💜