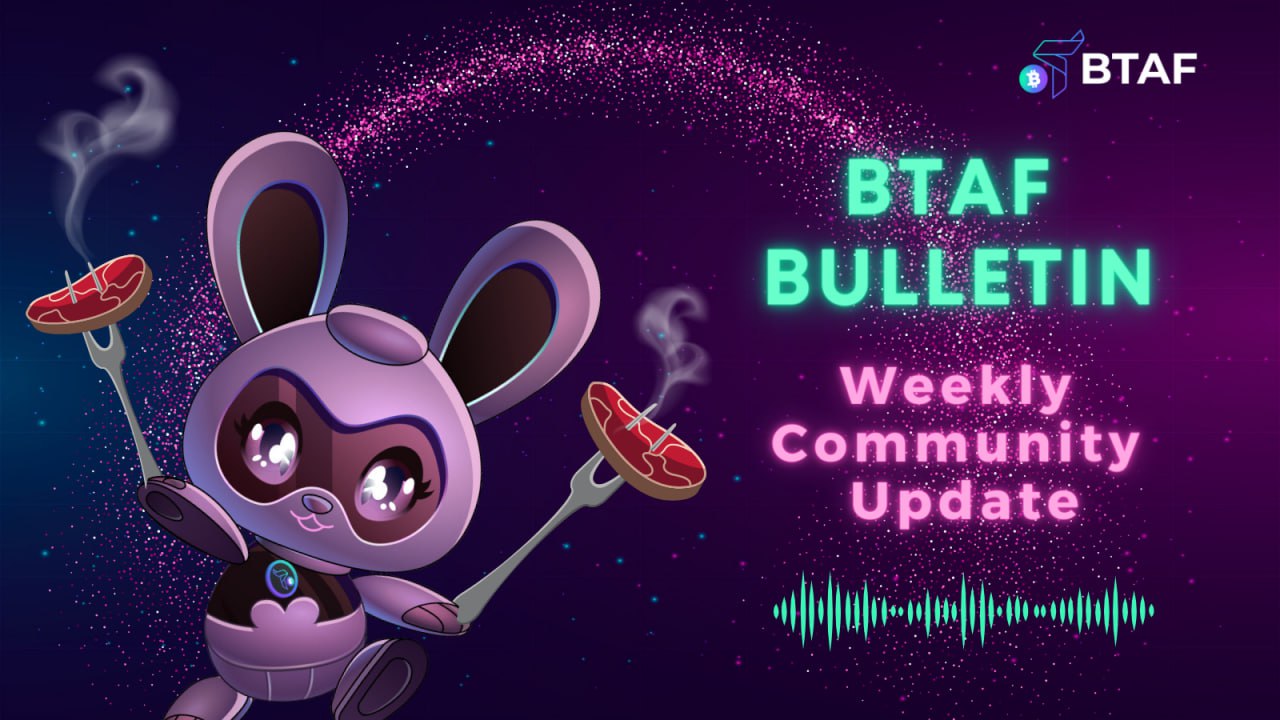 BTAF BULLETIN – 2 June 2023 #22
Can you smell what BTAF token is cooking? 😁
All the juicy details below:
🎥 In yesterday's AMA we again touched on the current 90-day / 65% APR staking contract which will mature in a couple of week, but also touched on the new staking contract that will be released in the next few days! For those who missed the AMA, HERE is the recording from our 1 June AMA 👀
⚡️ You can now pay for the Elliott Wave algorithms product on BitcoinTAF.com using BTAFPay! Head on over to BitcoinTAF.com and go to the Online Store, and simply select the product, and when choosing to pay for it, select BTAFPay! 🥳
And every month following you will be able to pay for a newly-linked BitcoinTAF.com product as well! 🥳🥳
❗️ IPO members: There is now is an added benefit of a once-a-month, private group call with Marius and Nico where you will be able to ask questions and receive "inside information" about the crypto market. Please check your IPO channel for registration information. You don't want to miss this inaugural call!
👀 Sneak peek – There will be an additional benefit for you soon as well. Keep watching your IPO Membership channel to learn more.
📉 BNB analysis: A general reset on one of our indicators saw a bullish move across the market. BNB on the 12 hr lining up for a good bullish push with indicator confluence. ALTS are turning around and finding good support. BNB has been going sideways on the 303 level, but approaching an incline. Keep levels 311 and 314 in mind. Once we break that we are in significant bullish territory. It's going to be an interesting month!
🖥 Keep an eye on our website, btaftoken.io for a number of updates, including video snippets regarding the staking contracts from our latest AMA.
🥩 Speaking of staking, we're now into the eleventh week of our 90-day / 65% APR staking contract 🥳
Staking into the current 90-day / 65% APR contract is no longer viable. If you do stake from today, you will lose more tokens due to fees, than will be generated as rewards. We don't want that to happen, so we've removed the "Stake" button from the dashboard.
If you can still see the Staking button, please refresh your screen or clear your cache, and the button should disappear.
Remember – you can claim your rewards at anytime without penalty, but if you unstake prior to the contract maturation date, you will incur a penalty. Please wait until the contract counter is at 0 before you unstake from this contract. (leaving your BTAF tokens in the contract means that you will continue generating rewards in any case!)
If in doubt, please create a support ticket in your account at www.BitcoinTAF.com
Then, because we completed our 01 June gifting airdrop , we will be launching another staking contract on 05/06 June, so everyone who has received BTAF tokens 🎁, can stake those tokens in the new contract instead. 🥳 🥩. Please watch the announcement channel for "the new staking contract is live" announcement.
❗️If you have not unstaked your previous TAF tokens, please complete this form ASAP so that you can apply for the BTAF token Gifting airdrop, so that you can start to stake those tokens of yours!
If you have done this and not yet completed your forms for the BTAF token Gifting airdrop, please do so sooner rather than later – before the July Gifting airdrop!
The Gifting airdrop form completion deadline is 1 Oct 2023. You all need to complete the form prior to this date in order for you all to be eligible for your BTAF token gift!
🎫 For any BTAF token questions around any of the above, please visit our Help Centre at https://help.btaftoken.io/ or create a support ticket HERE.
❓A question that we often get:
If I have purchased extra BTAF tokens, or even generated some rewards or won a contest or two, and I have more BTAF tokens than I need to be holding for my KEY status, can I use them?
Yes, you can! To retain your Diamond/Platinum KEY status, you only need to hold the amount required to keep your KEY. Any additional tokens that you have purchased, won or generated can be transferred or used without fear of compromising your status. Just be doubly sure that you are only using your EXTRA tokens and not your required amount to maintain your status. 🤓
📅 Note: The next live AMA is scheduled for Thursday, June 15th 2023 at 9am UTC. More details on this to come as usual.
May you all have a phenomenal weekend! 💃🏼🕺🏻
🐾💜