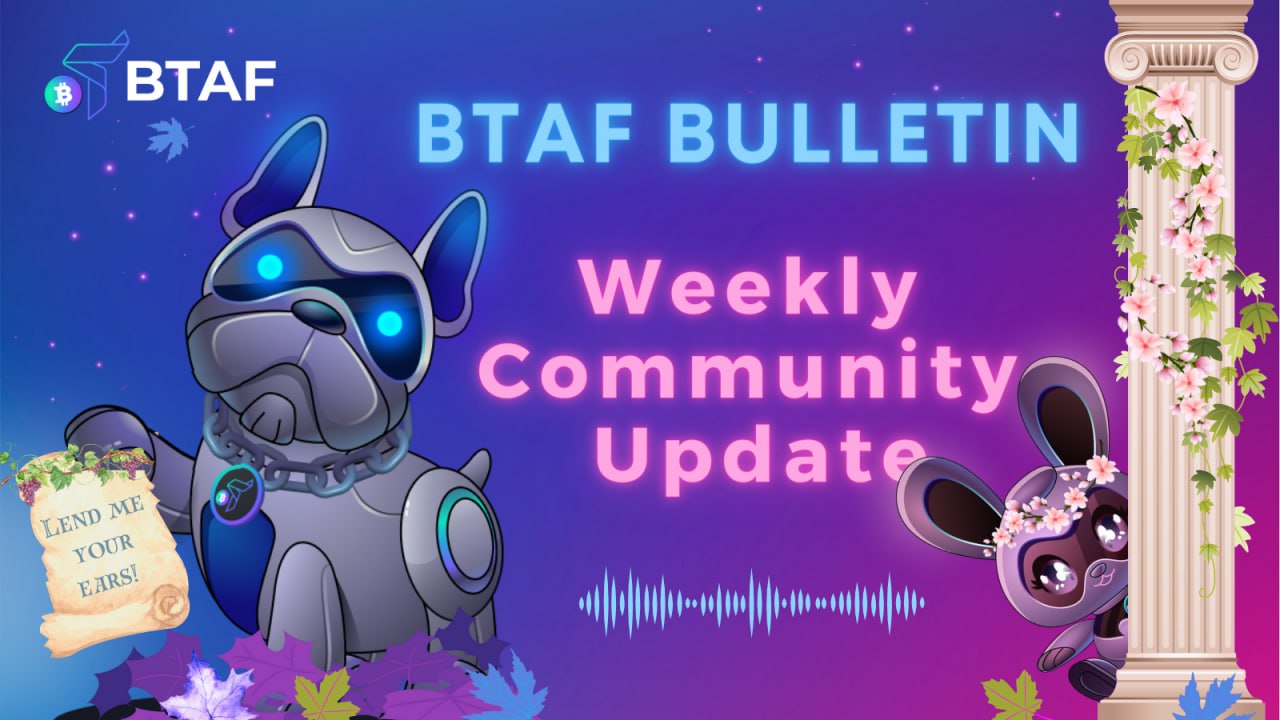 🐺 BTAF BULLETIN – 15 September 2023 #37
What another exciting week over here at BitcoinTAF.com with the Wolves of Rome pre-sale! Did you all get some?
Speaking of getting, here's this week's BTAF token weekly bulletin, now with added spice! 🌶😉
🎥 If you missed last week's AMA here is the link for it! 🍿
💎 IPO: IPO members, did you all get some of the WoR pre-sale?? 🐺
What an amazing opportunity to have been presented with to get in early with this Trading Card Game that incorporates NFT's into their game-play! Exciting! More updates to follow on this product 🐺
⚡️ BTAFPay: In case you missed it, the latest product on BitcoinTAF.com that is now eligible for BTAFPay is the Hodlnots Scalping Course. And with the next Live course being held at the end of October, now is the time to accumulate more BTAF tokens so that you can pay for this course with them 😉🥳🔥
As a reminder, you can head on over to BitcoinTAF.com, select the Online Store, and filter the products available that one can pay for by using BTAFPay!⚡️
📉 BNB analysis: A correction from strong 217 resistance then found firm support on 203 before a good rally back to the current price in the past week. The trend seems to find a good support on the 211 level doing back testing. More importantly a GOLDEN DOT has printed on Detonator which gives a favourable outlook for BNB on the 12hr. It has regained support on 217 and the EMA's will be key for better moves.
🥩 Staking:
👉🏼 We are now into the 6th week of the THIRD staking contract – there are still around 51 days left in this staking contract!
You can stake any rewards previously generated by the other staking contracts, from Gifting airdrops or other BTAF tokens that you've accumulated. Remember, the sooner you stake your BTAF tokens, the more that will be generated 😎
👉🏼 The SECOND 90-day / 35% APR contract matured two weeks ago already. You should've unstaked there by now and claimed your rewards! With the 3rd staking contract still valid, make sure you do so sooner rather than later so that you can stake all those BTAF tokens!
💸❗️If you have not yet completed your forms for the BTAF token Gifting airdrop, please do so soon as the Gifting airdrop form completion deadline is 1 Oct 2023!
You all need to complete the form prior to this date in order for you all to be eligible for your BTAF token gift!
🎫 For any BTAF token questions around any of the above, please visit our Help Centre at https://help.btaftoken.io/ or create a support ticket HERE.
🧝🏻‍♀️ Wendy's Wisdom: Nobody puts MamaBear in the corner, but we did manage to grab a few minutes of her time for her to impart some wisdom. And it came along in the form of a recipe – her famous Texas Secret Salsa! 🌶🔥🌶
See the image below this bulletin for all the deliciousness! 🤤
📅 Note: The next live AMA is scheduled for Thursday, October 5th 2023 at 9am UTC.
If this seems a bit far away, know that we are now holding the BTAF token AMA once a month on the first Thursday of the month, but if the need arises, we will hold other AMA's. More details on this to come if this is the case.
Have a spicy weekend everybody!
🐾💜